This discussion is a biased one that is based on a practical review of investment objectives for a real estate purchaser in the current economic climate. At the end of this article you should be thoroughly convinced of the merits Brampton brings to the table as a thriving investment market.
As of March 10, 2021 the Average Price is $1,023,973 with a median days on market of 7 days. This represents a 23.3% year-over-year increase in property value.
Compared to Vaughan average home price of $1,249,967 with a median days on market of 11 days and a year-over-year increase of 18.4%.
Finally compared to Mississauga with a average home price of $1,026,074 with 10 days on market and a year-over-year increase in house price of 13%.
This demonstrates the low-rise segment on the market in Brampton and its affordability has created a massive boost in property value.
(source:https://www.zolo.ca/brampton-real-estate/trends)
Immigration is giving Brampton its competitive edge against other Greater Toronto Area Cities
Brampton is the 2nd Fastest Growing City in Canada with 14,000 new residents per year due to its multicultural mosaic.
Brampton is an immigration haven with its multicultural restaurants and affordable rents.
Immigrants are Choosing to Live in Brampton because it is Multicultural and has Affordable rents
• Brampton has the 4th largest visible minority population
• 52% of Brampton's population are immigrants
• 50% of new immigrants to Brampton are under the age of 24
• Over 83,000 immigrants aged 15 and older have a University
certificate, degree or diploma
Immigration Minister Marco Mendicino unveiled what he called an "ambitious" three-year immigration plan today that set targets for bringing skilled workers, family members and refugees into Canada.
Canada aims to bring 401,000 new permanent residents in 2021, 411,000 in 2022 and 421,000 in 2023.
(source: https://www.cbc.ca/news/politics/mendicino-immigration-pandemic-refugees-1.5782642)
New arrivals to Canada that are looking to match to Canadian standards immediately seeks to update their skills so Brampton has an abundant post-secondary education system targeting employable skills. See this list of colleges below:
SHERIDAN COLLEGE 7899 McLaughlin Road, Brampton 905-459-7533

Brampton is home to Sheridan College Centre for Advanced Manufacturing and Design Technologies – linking companies of all sizes to Sheridan's expertise in advanced manufacturing with the help of faculty and students, of which there are 12,000.
Algoma University
ALGOMA UNIVERSITY 24 Queen St E Suite 102/103, Brampton, ON L6V 1A3

Brampton Campus is located in the heart of down- town Brampton and offers four-year degree programs in Business, Economics and Computer Science – expanding to Psychology and a Certificate in Community Economic and Social Development.
Ryerson Chang School of Continuing Education
RYERSON UNIVERSITY

CYBERSECURITY IN BRAMPTON
With the Rogers Cybersecure Catalyst, Chang School of Continuing Education and Sheridan College all offering training opportunities in cybersecurity, Brampton continues toward their Computer Security and Digital Forensics Certifica
Brampton has the Largest Supply of Vacant Land Adjacent to Toronto International Airport
The Covid Reality has set into Commercial real estate. Office space is less needed as work-at-home has become the preferred safer way to be an office professional. This is rippling in the downtown cores of most cities.
Covid has also devastated shopping centres and retail plazas. Last mile distribution to support online shopping has forced large corporate retail stores to close or downsize and acquire more affordable last-mile distribution centres in much lower rent industrial parks. Brampton has benefited from this as Industrial uses are high in this city along with development.
Brampton crushes Advanced Manufacturing and Rail Distribution in the Greater Toronto Area
Manufacturing and Blue collar jobs has always be a mainstay of Brampton's strength in the GTA. Supported with CN Brampton has the largest intermodal railway terminal in Canada. More than 58 per cent of North American business comes through the Brampton facility.
Advanced Manufacturing
1,500 Companies
30,000 Employees
Top Employers: FCA Canada, ABB Inc.,
Armacell Canada, Velcro Canada Corp. (HQ)
Food & Beverage
300 Companies
8,500 Employees
Top Employers: Loblaw (HQ), Maple Lodge Farms,
Coca-Cola Refreshments, Italpasta (HQ)
Innovation & Technology
6,500 Companies
13,000 Employees
Top Employers: Rogers Communications (HQ),
Canon Canada (HQ), Air Canada, MDA Robotics
Health & Life Sciences
2,300 Companies
13,000 Practitioners & Services
Top Employers: Medtronic (HQ), Taro
Pharmaceuticals (HQ), Dynac
RIOCAN has an ambitious plan to convert Shoppers World to a Master-Planned Community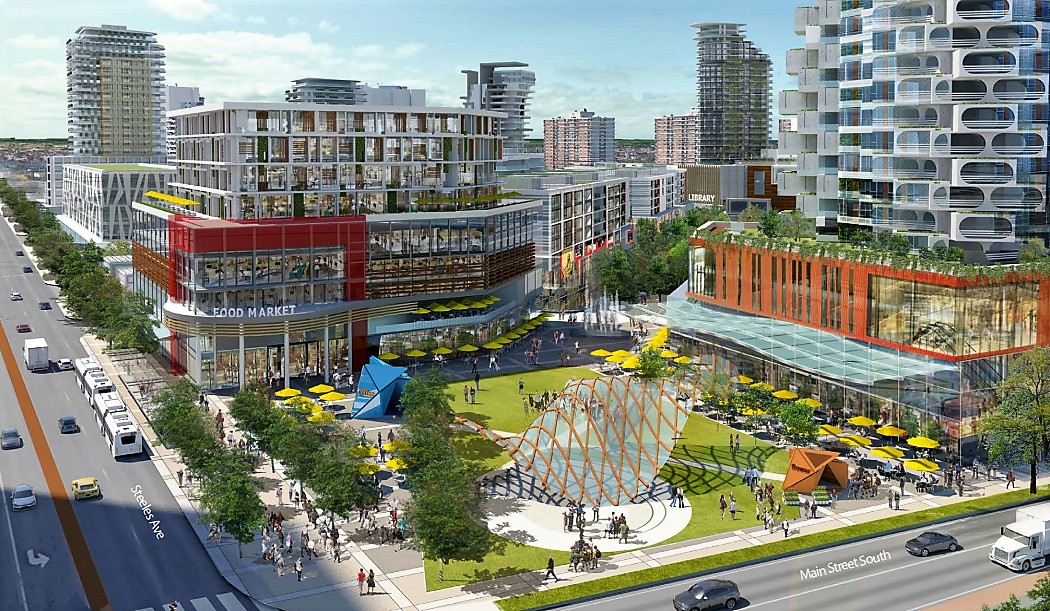 https://urbantoronto.ca/news/2019/10/massive-mixed-use-proposal-shoppers-world-brampton
Brampton's 2040 Vision wants to put Brampton in the lead by developing its 21 hectare site in joint project with RIOCAN into a "sustainable and walkable transit-oriented community". (Source: Brampton Guardian Nov 12, 2019)